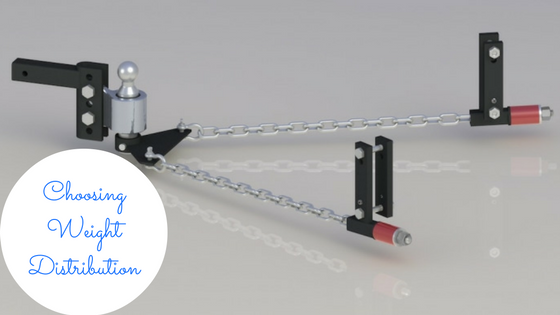 Weight distribution hitches come in a variety of styles and capacities, so how do you know when you need one and how to pick the right one? Well, as you may have seen in our previous POST, when you would need one is if you are carrying heavy loads on a class 3, 4 or 5 hitch. If the load you are carrying is too heavy you will legally need a weight distribution kit. The weight distribution kit will ensure that your vehicle does not begin to sag in the back, causing the front end to lift and your breaks and steering to be impaired.
So, then, how do you choose the right weight distributing system? There are 3 different types of weight distribution systems. Here are some pointers on choosing the right one for you:
·

Round Bar kits
o The shape is round
o These bars will slide in from the bottom of the ball mount (what holds the ball of the hitch and any other devices, such as a hitch distribution system)
o If you travel mainly on paved roads without much dips and potholes, these would work well.
o 600-1200lbs tongue weight distribution
·

Trunnion Bar kits
o The shape is square
o These bars are inserted from the side.
o Allows a higher clearance room. This is good if you have a trailer that is already low because any potholes and dips would case the bottom of the round bars to scrape the road and over time would wear the bars down. Also, if you are travelling on gravel roads more frequently or for extended periods of time the clearance room in the trunnion bars would be beneficial.
o When turning corners the trunnion system will lift one bar and throw extra weight onto the front tires of your towing vehicle, which will aid in better steering ability especially on gravel roads.
o 600-1700lbs tongue weight distribution
o The cost of these are normally $50-$100 more than the round counterpart
·

Andersen Weight Distribution kit
o Chains and shock absorbers replace spring bars so there is no bounce when driving
o Trailer ball is included (2" and 2-5/16" available)
o Includes friction sway control
o Trailer ball turns with trailer which provides a silent ride
o No need to snap up spring bars, a nut is used to tighten the chains and shock absorbers
o 200-1400lbs tongue weight distribution (we recommend for 200-800lbs tongue weight)
If you choose a kit with spring bars (round or trunnion) that is rated for more then what you need, it will not have the same shock absorption and will transfer harder impacts to the trailer. Which will over time cause damage to the trailer and towing vehicle. If you install a weight distribution kit and it cannot hold the amount of weight you are carrying it will not be as effective, and can cause swaying problems.
So, now how do you know which kit best suits your trailer? You want to try and match the Gross Trailer Weight and Tongue Weight of the trailer to the kit you buy. You will need to figure out the Gross Trailer Weight and the trailer Tongue Weight to do that. The Gross Trailer Weight is usually posted on a sticker that is on the outside or inside of the trailer. The other way to find out the Gross Trailer Weight is by pulling the trailer across a vehicle scale, which most communities have available. The Tongue Weight is typically 10-15% of the Gross Trailer but it can vary depending on how you load the trailer and what the trailer is designed for ex: dump trailer, toy hauler, flat deck, etc.
The rating of your weight distribution hitch needs to match or exceed the Gross Trailer Weight so for example if your trailer weighs 7000lbs and have roughly 750lbs Tongue weight then you would want a kit rated for 8000lbs total trailer weight and 800lbs tongue weight. If you have extra cargo placed in the back of the car, van or box of the truck like fire wood or a quad you will want to take that into consideration when selecting a Weight Distribution Hitch. You could purchase a kit that is rated for more Tongue Weight that will help distribute both the tongue weight of the trailer and the extra weight in the back of your vehicle.
Click here to go to our Weight Distribution Department Page
For any other questions or concerns please leave a comment below, or email marketing@hitchwarehouse.com